Archives by date
You are browsing the site archives by date.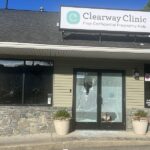 By abolitionmedia on 2022/07/08
Two fake clinics in Worcester, Massachusetts (Problem Pregnancy and Clearway Clinic) have been attacked. The assholes who lie to vulnerable pregnant people about abortion to confuse them and convince them to not seek abortions discovered this morning that their buildings had been redecorated with paint and broken glass.
Posted in Communiques