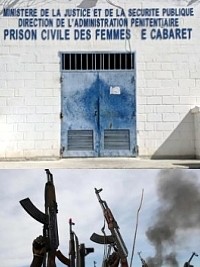 Thursday afternoon, an uprising took place in the prison for women of Cabaret, located in the locality of Titanyen in the North of Port-au-Prince, Haiti when a group of heavily armed militants attacked the prison for women into which they entered, allowing the escape of several dozen prisoners.
At the time of the attack, there were 280 women imprisoned in this prison with a capacity of 300 prisoners.
Police officers from the Titanyen sub-police station went to the scene. Taking advantage of the downsizing, militants took the opportunity to attack the police station and set it on fire. A police officer is said to have died during this attack.
The attempts of the National Police of Haiti (PNH) to regain control of the prison were successfully opposed by armed militants. Some police officers have been hit by bullets. Police were unable to regain control of the prison.
This is reportedly the first time in Haiti that women have escaped from prison.