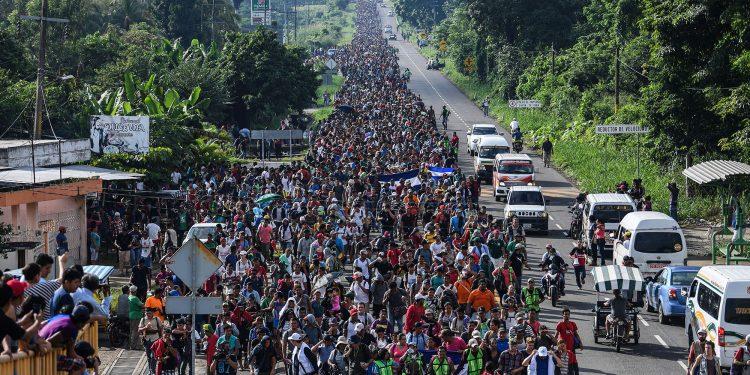 On the 9th of June the Summit of the Americas opened in Los Angeles, which will also discuss migration, a new and massive migrant caravan set out from Tapachula, Chiapas, near the border with Guatemala. It is made up of seven to twelve thousand migrants, men, women, children, the elderly, people with disabilities coming mostly from Central and South America, tired of waiting in vain for a response from the Instituto Nacional de Migración (INM) and the Comisión Mexicana de Ayuda to Refugiados (COMAR) regarding their requests for asylum or permission to enter the country.
A very large caravan, the largest since the phenomenon of caravans exploded in 2018, is determined to obtain permits and win the right to migrate and, in the intentions of the organizers, headed hose by tmost fragile, while those able to fight queue to protect those left behind from attempts by the authorities to raid. According to the organizations accompanying the caravan, there are at least 126 pregnant women, three thousand children and minors, 67 people with disabilities.
The current one is the eighth caravan leaving Tapachula in the current year. It is a caravan that not only seeks to obtain documents for migrants in transit on Mexican soil, but which also seeks to put the issue of migratory flows back at the center of general attention and to claim and defend the right to be able to migrate. These are the words of Luis Garcia Villagrán: «we want to tell Joe Biden, Andrés Manuel López Obrador and all the presidents that the border is not the "patio transero" nobody's; we are free men, women, children, of a free America. This is why today we walk in the name of God, conquering our freedom so that it can be seen that we are free and dignified people, that we have the right to migrate. Migrating is not a crime ».
Words that highlight how "desde arriba" (from up) migrants are considered commodities, pawns of exchange in the name of economic and political interests. Words that clarify how the only way to obtain (or defend) rights is to conquer them in the streets, by fighting, walking and challenging the elements and the armed forces, putting one's own bodies at stake. Because, from above, no one will give anything away, much less the phantom "friendly governments."