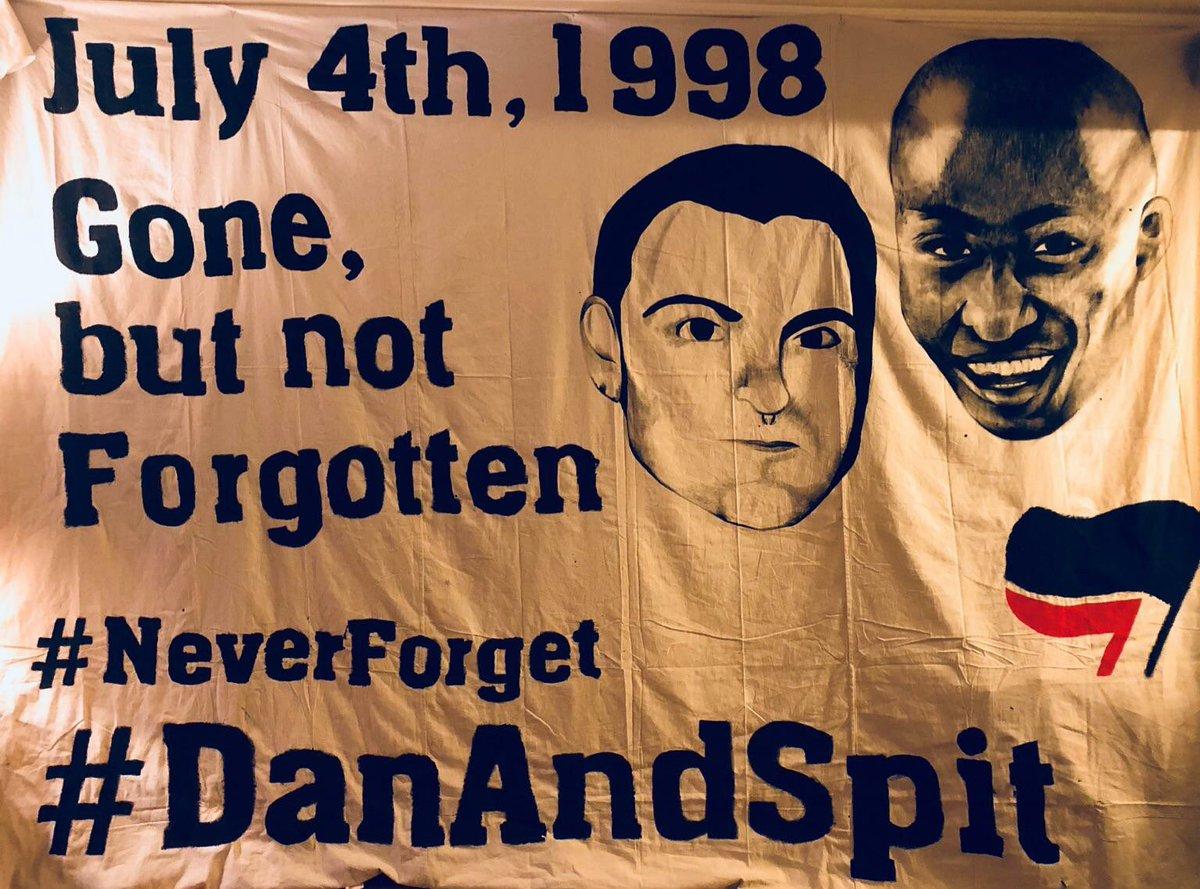 Today we remember Dan Shersty and Spit Newborn, murdered by neo-Nazis on July 4th in 1998 for their integral role in founding Las Vegas Anti-Racist Action. They may be gone, but they are not forgotten. We continue this work in their legacy.
n July 4th, 1998, Dan Shersty and Spit Newborn were gunned down by neo-Nazis on the outskirts of Las Vegas. The pair were founding members of the local Anti-Racist Action Chapter and dedicated their lives to fighting white supremacy. They were lured into the desert and murdered by six known white supremacists- of the six, only three, Ross Hack, Leland Jones, and John "Polar Bear" Butler served prison time.
Spit was a father, a musician, and a constant fixture in the Las Vegas punk scene. He played in the short-lived band Life of Lies and worked as a piercer at Tribal Body Piercing. He was involved with the Las Vegas Unity Skins and the Nazi Terminator Skins before founding Las Vegas ARA. He was 25 years old when he died. Dan was a jazz musician, a recent high school graduate, and a U.S. Airforce serviceman who dreamed of one day going to college. He was 21 years old when he died. The two met at Tribal Body Piercing after Dan came in seeking a nose ring, having heard Spit was the best man for the job. They quickly became inseparable and created Las Vegas Anti-Racist Action in hopes of combatting the strong fascist presence in their city.
The two best friends took younger ARA members under their wing, went head to head with neo-Nazis in the local music scene, and disrupted white supremacist recruitment of youth in Las Vegas. Dan and Spit both knew the danger that came with their anti-racist organizing but continued undeterred. They came face to face with that danger numerous times- after giving a speech to a group of anti-racist skinheads, Spit's house was the target of a drive-by shooting. Mere months before their murder, the windows of Dan's car were smashed and the ARA leaflets inside it were shredded. Both received threatening calls and letters. None of this could shake them from their chosen path. 
July 4th, 2022 marks 24 years since Dan and Spit lost their lives in the fight against white supremacy. In the past, neo-Nazis have celebrated the anniversary of their death. Exactly one year after their murder, racist skinheads in Nevada hosted a white power music festival in celebration of their killing. July 4th is of course also Independence Day in the US, a holiday that glorifies American patriotism and the bloody history of colonization and oppression tied to this country's founding. Today we work to build a better society by remembering these fallen comrades and carrying on in their memory.