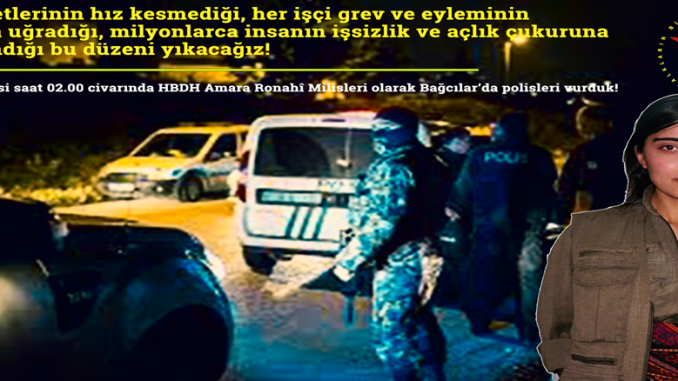 We will overthrow this system in which workplace murders are rampant, every workers' strike and demonstration is attacked, and millions of people are plunged into the pit of unemployment and hunger!
We will overthrow this system that imposes horrible poverty on millions of workers and laborers in exchange for the pomp and luxury of a handful of rich and desperate minority!
We will overthrow this fascist order that brutally tortures revolutionary prisoners in dungeons, keeps sick prisoners in coffins until they are released, and treats all revolutionary prisoners as political hostages!
We will overthrow this dark order that is hostile to women's freedom, where brutal murders of women grow like an avalanche!
We will overthrow this expansionist invasive order that feeds on blood and war, engages in invasions in Syria, Rojava, Iraq, escalates war tensions in the Aegean, and attempts to take the blood and lives of the valiant sons of our people with "cross-border operations"!
We will overthrow this rotten order that poisons life for our youth, steals their future and hopes, and lures them into corrupt swamps!
We have countless reasons to overthrow this fascist order!
Our anger is formidable!
With this consciousness, with our accumulated historical anger, we hit the enemy. We strike for the valiant sons of our people in dungeons, for women, for youth, for workers and laborers.
As HBDH Amara Ronahî Militia, we shot the police in Bağcılar! Around 02.00 on the night of September 15, we attacked a police squad car in Bağcılar, Istanbul. The police car waiting in front of the AKP district building was attacked by our militia as it moved towards Yavuz Sultan Selim Park. After the action, our militia successfully escaped from the area.
It was seen that ambulances and police vehicles were dispatched to the scene.
We Will Destroy Fascism! We Will Win Freedom!
HBDH Amara Ronahî Militia
source: https://www.tkpml.com/hbdh-amara-ronahi-milisleri-bagcilarda-polisleri-vurduk/?swcfpc=1
Translation by Nae Midion