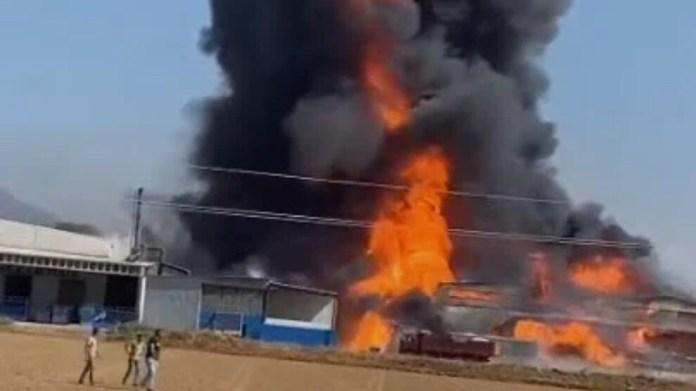 Making a written statement, the Peoples' United Revolutionary Movement (HBDH) Fırat Çaplık Militia reported that they carried out a sabotage action against a factory in the Torbalı district of İzmir.
From the statement: "In the morning hours of September 17, a big fire broke out in the cosmetics factory in Yazıbaşı Neighborhood in İzmir Torbalı as a result of the sabotage we organized using a special technique. The fire spread to the entire factory, from there it spread to the spice packaging factory and the area where the LPG tanks were located. There were successive explosions. The vehicles in the factory yard became unusable."
The statement also contained the following:
"The raging aggression of the fascist state knows no boundaries. Our peoples who want to claim their land, nature and life are prevented by the gendarmerie's rifle-butts and gas bombs. They are wanting us to be intimidated with detentions and arrests. This fascist order, which is hostile to every color of life, does not only massacre our peoples. It destroys our forests and kills nature with all its inhabitants.
With the targeting and orders of the degenerate minister, the houses of municipality workers are raided, and they are arrested and detained.
Sick prisoners held in dungeons are deliberately and willfully being driven to death.
Fascism is waging a fierce war against workers and laborers, against our poor peoples.
All this oppression, all this bullying, all this aggression is because of its weakness. This fascist order of tyranny can only survive with blood, brutality, oppression and tyranny!
We have never been silent about this oppression of our peoples and we will never be silenced! As the fighters of the United Revolutionary Movement of the Peoples, we have hit and will continue to hit all the economic, political, military institutions and all the bases of this order that feeds on blood! We will definitely hold them to account for what they have done to the workers and laborers!
As HBDH Fırat Çaplık Militia, we carried out an act of sabotage against a factory in Torbalı. In the morning hours of September 17, a big fire broke out in the cosmetics factory as a result of the sabotage we organized using a special technique in the Torbalı district of İzmir. The fire spread throughout the factory, then spread to the nearby spice packaging factory and the area where the LPG tanks were located. There were successive explosions. The vehicles in the factory yard were rendered unusable."
Translated by Nae Midion
source: https://raperinagel.com/hbdh-milislerinden-izmirde-bir-kozmetik-fabrikasina-sabotaj-eylemi/