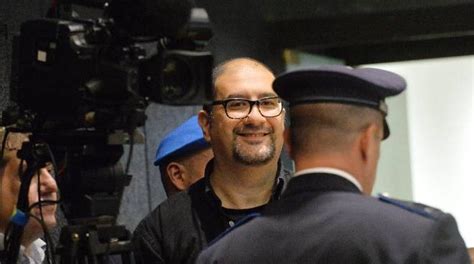 Anarchist Alfredo Cospito was arrested in 2012 and from then on he is incarcerated in italian prisons. According to the repressive apparatus he was linked to different actions against state and capital as well as to the Informal Anarchist Federation (FAI). Alfredo Cospito has participated throughout his time of imprisonment in the anarchist struggle by texts and interventions. Driven by the blatant aim to destroy anarchist ideas, the state's desire to annihilate the untamed prisoner Alfredo Cospito grew bigger and bigger. Eventually, on the 5th of May, he was cut of any contact to other humans. From that day on and indefinitely, he lives under the so called 41 bis regime, the total isolation.
On the occasion of the court appointment on the 20th of October that he participated in from his isolation cell via television, he tried to announce his hunger strike. His declaration was cut by technical means. Nevertheless, it is clear now that from that day on and until the end, he wants to do this strike.
It is urgent that we lay the groundwork for a revolutionary, international solidarity in practice. A necessity which we carry as a solidarity movement outside of prison walls. The hunger strike as a tool of struggle is one of the last means that a prisoner chooses in order to break the suffocating life in prison. It is a tool of struggle in which the body is used as the last trench of combat. As individuals in solidarity, we must support Alfredo's struggle and make it also ours – also here.
Let's make this hunger strikes hot! To attack symbols of oppression and exploitation in order to show solidarity with the hunger strikers. Targets exist everywhere. Every action is necessary; from defusing the ideas of the anarchist hunger strikes, to sabotaging and disrupting the "normal" function of state and capital. Target the Italian/German state or any other state and symbol of domination – to abolish the prison system!
Solidarity with Anna Beniamino, who joined the struggle and started hunger strike on 07.11.2022: https://prisonersolidarity.com/prisoner/anna-beniamino.
Solidarity with Juan Sorrocho, who joined the struggle and started also a hunger strike on 28.10.2022 from high security prison in Terni: https://actforfree.noblogs.org/post/2022/11/05/anarchist-prisoner-juan-s….
Solidarity with Ivan Alocco, who joined the struggle and started also a hunger strike on 27.10.2022 in solidarity with Alfredo and Juan from the french prisons: https://lanemesi.noblogs.org/post/2022/10/28/dichiarazione-di-inizio-del….
Let's put an end to 41 bis and any cage, until all are free!
Death to the state, long live anarchy!
*The 41 bis is a hard prison regime, created to isolate, silence and annihilate the prisoner, trying to bring him to cooperation with Justice. More infos about 41 bis can be found here: https://darknights.noblogs.org/post/2022/10/12/italy-the-only-viable-pat…
From: de.indymedia.org