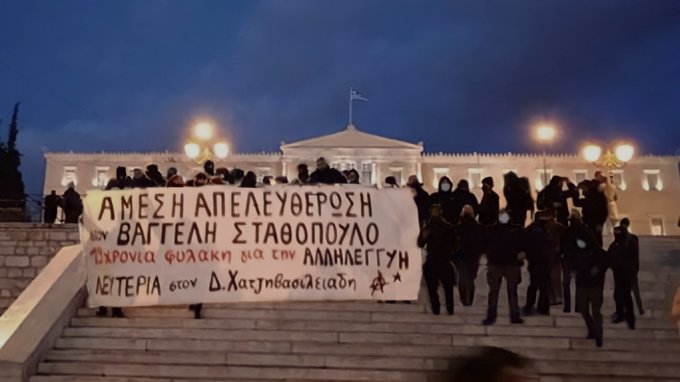 The second-degree trial of V. Stathopoulos and D. Chatzivasiliadis is approaching its end, as we are in the process of "apologies" of the two anarchist political prisoners. In the face of the anarchist D. Chatzivasiliadis, who was sentenced to 16 years in prison for taking responsibility for armament to continue revolutionary action, the state avenges those who embody the constitution of the revolutionary struggle. At the same time, in the face of the anarchist V. Stathopoulos, who was sentenced to 19 years in prison for his practical solidarity in a trial without evidence, the attempt to criminalize social and practical solidarity is applied.
We invite solidarity with the anarchists Vangelis Stathopoulos and Dimitris Chatzivasiliadis on Saturday, November 26 at 2pm at Syntagma Square, called in the Pan-Hellenic Solidarity Actions.
"Solidarity is a relationship that inspires the broader movement, it is a key component to build a world against human exploitation by man, a common practice of subversive movements worldwide. Practical solidarity is not a place, it is an attitude of life, it is a matter of consciousness, it becomes an experience in our lives. " V. Stathopoulos
"The most important stake in the trial […] is the release of Comrade Vangelis Stathopoulos, whose face is brutally hit by social solidarity on the border of the revolutionary struggle. I have been defending the revolutionary struggle, the guerrilla and the pillar of armed social resistance. I have been put in the service of social solidarity, freedom and equality. " D. Chatzivasiliadis

Timing of the case
In October 2019, an OPAP [state-owned gambling monopoly] agency is being robbed in Holargos, which injures the anarchist D. Chatzivasiliadis, who remains a fugitive until August 9, 2021, arrested in Thessaloniki after an armed expropriation. On November 8, 2019, the Anti -Terrorist invasions – investigations into a large number of houses, raids dozens of people and captures three, including anarchist V. Stathopoulos. V.S. And D.C. will be sentenced to 19 and 16 years in prison respectively, for the establishment and an integration of a terrorist organization, armed robbery and distinguished gun possession of 187A, with D.C. being tried in absentia as he remained fugitive. The use of 187A concerns the organization "Revolutionary Self -Defense", armed at the house of the third person arrested. D.C., who has taken responsibility for the robbery at the OPAP agency, has stated that this organization is inactive and that he had undertaken to preserve the organization's "political heritage" (that is, to keep its weapon). It has also been made clear that V.S. did not participate in the robbery or the organization. V.S. has denied his involvement in both the robbery and the organization from the first moment and has admitted that in the context of solidarity with a comrade, he provided medical assistance to the injured D.C.
Solidarity with anarchist Vangelis Stathopoulos
Solidarity with anarchist Dimitris Chatzivasiliadis
Until the demolition of the last prison
Solidarity Assembly to prisoners, fugitives and persecuted fighters
From: Athens Indymedia